The Metabolic Window is the maximum time we have for an optimum recovery after a training session or competition.


In this time, it is very important to replace the nutrients we have used during physical exercise, since this will be when our body assimilates, absorbs and fixes much better the nutrients we provide.


Duration of the metabolic window


In the past, it was thought that we had up to 2.5 hours after exercise to recover well, but it has been shown that the maximum period for the assimilation of nutrients is the first 30 minutes.


This first half hour will be crucial and we should correctly plan the foods we provide so that they are easy to digest, absorb and so they contain all the elements our body needs to recover and to continue performing to its full potential in future sessions.


However, even though they say we have 30 minutes, the closer we are after finishing exercise, the better we recover. So, if we have chance to have our post-training food intake 5 minutes after finishing exercise, it's better than waiting for 20 minutes.


Post training recovery


In endurance sports, the "metabolic window" becomes even more important since there is a very high expenditure of calories and nutrients.


The "recovery" foods eaten during the first 30 minutes post-exercise, should be free or low in fat and fibre and with a high quantity of carbohydrates and vital nutrients (mainly anti-oxidant vitamins). In addition, they should contain a good quality protein, above all if the training has exceeded 3-4 hours.


With this, we will help the muscle and our energy reserves to be replenished more quickly from the effort and expenditure of the training.


Muscle glycogen replenishment


A correct recovery for endurance sports is a minimum of 2g of Carbohydrates for each gram of protein. And a maximum of 4g of Carbohydrates for each gram of protein.


Ideally, in our recovery (whether artificial or natural) we should ensure we have a good source of anti-oxidants with Vitamin C (orange, kiwi, pepper, clementine..), Vitamin A (pumpkin, mango, peach, carrot,...), polyphenols / tannins / flavonoids (blackberries, strawberries, blueberries, grapes, beetroot, red cabbage,...)...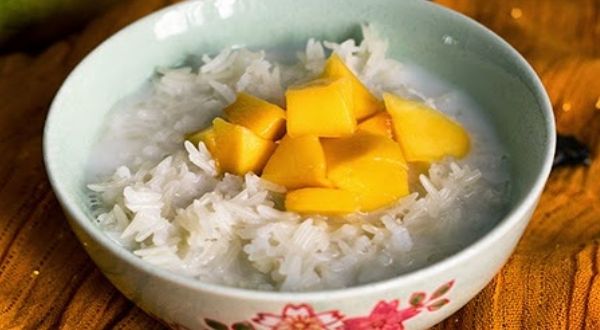 Post training recipe


RICE PUDDING AND MANGO (ratio 4:1g - 4g Carbohydrates per 1g Protein)


Ingredients:


100g mango


50g rice


50ml semi-skimmed milk


15g brown sugar


1 cinnamon stick


1 lemon


Boil a glass of water with 2 tablespoons of sugar and the zest of half a lemon. Remove from the heat and leave the peeled, sliced mango to marinate for 1 hour.


Boil the milk and cinnamon and the rest of the lemon zest. On a low heat, add the rice and leave it to simmer for 20 minutes. Then add the sugar and simmer for another 10 minutes. Remove from the heat.


Serve the rice in bowls or on plates and sprinkle with powdered cinnamon, use the previously drained mango as a decoration.


If it is very watery, you can add a sheet of gelatine.