Road to Behobia S.S by Adidas Boost: Options and features.
A few months ago, I received a call which made me especially excited. I received the offer to participate as the Ambassador of Runnerinn and Adidas in the mythical Behovia San Sebastián
A race which has always had my interest because of everything it involves: Tradition, environment, travel, organisation and prestige. Without a doubt we are talking about one of the most important "classics" of the calendar. Obviously, I accepted and since then I have been counting down the days.


In this post we will focus on the material offered by Adidas (the main sponsor of the race), basically in the wide range of footwear with "Boost" technology and in the "for whom" and "for what" we would recommend for each model. Specifically, we will talk about the four models which Adidas has lent us to "test": Solar Boost, Pulse Boost, Ultra Boost and Boston. I think this is a variety which is more than enough to accommodate virtually all types of tarmac runners.


Adidas Solar Boost


Tested for 3 weeks over a total of 123 km. Almost always in medium or long runs (60-75 mins) of quality on tracks and trails.


We are clearly among the evolution of the old (and famous) "Energy Boost". A very versatile shoe both for use as a training tool for light runners (under 70kg) for its brutal stability on any surface and its cushioning which is more than sufficient, or as a "competition machine" in half marathons or even marathons for heavier runners (70-80kg) who are looking for protection without compromising reactivity.


Strengths:


-Stability.


-Great cushioning.


-Functional versatility.


-Sole


Weaknesses:


- Narrow last (not recommended for wide feet).


- Weight (292g t.43)


Ideal for:


-Long bearings on tracks and dirt roads with technical sections.


-Long series at medium rates (3'50-4'10/km)


-Although I haven't it, I don't think it's a bad option for a marathon between 180 and 190 minutes.


Adidas Pulse Boost


Tested for 3 weeks over a total of 40 km. Normally in very smooth recovery breaking-ins/jogs and in specific trainings on stairs or slopes.


A model designed either for occasional runners or for more advanced athletes as a shoe for easy jogging because of its great comfort and good sole. We highlight its feeling of perfect fit (like a glove) and its grip on any surface.


Strengths:


-Stability.


-Comfort and fit.


-Sole.


Weak points:


-Weight (320g t.42)


-Too much cushioning (for my liking).


Ideal for:


-Very easy breaking-in.


-Impact exercises (slopes, stairs).


Adidas Ultra Boost 19


Used over 305km in 5 weeks in long or extra-long breaking-ins at comfortable rates. Always on tracks or trails.


The SUV of Adidas. Damping without compromising speed. Probably in the top 5 worldwide of the long-distance shoes. Fitted like a glove and with the sensation of floating over the miles. One of my favourites for facing the "long winter".


Strengths:


-Cushioning.


-Fastening.


-Stability.


-Reactivity.


-Sole.


-Duration (+1000km)


Weak points:


-It's not very ventilated.


-Aesthetically it is a bit "weird".


Ideal for:


-Competition shoe over a marathon or half marathon for heavy runners (+80kg).


-Training shoe for lightweight long runs (-70kg)


Adidas Adizero Boston


Used over a total of 73km in 4 weeks. Always in series training on dirt tracks or running tracks.


The emblem of adidas in medium and long-distance shoes. Light enough to run quickly and cushioned enough to run over a long distance. Brutal grip to adapt to any competition or training situation. A more than valid option also for triathletes of 70.3 or IronMan, since its good cushioning helps you to reduce muscle stress from "post-bike impact".


Strengths:


-Lightness (230g t.42)


-Reactivity.


-"Feeling" (feeling of contact with the ground)


-Good cushioning despite being competitive shoes.


-Stability.


-Comfort.


Weak points


-Short lifespan (600km)


-The sole is not as good as other versions with "Boost". (But it is still very valid).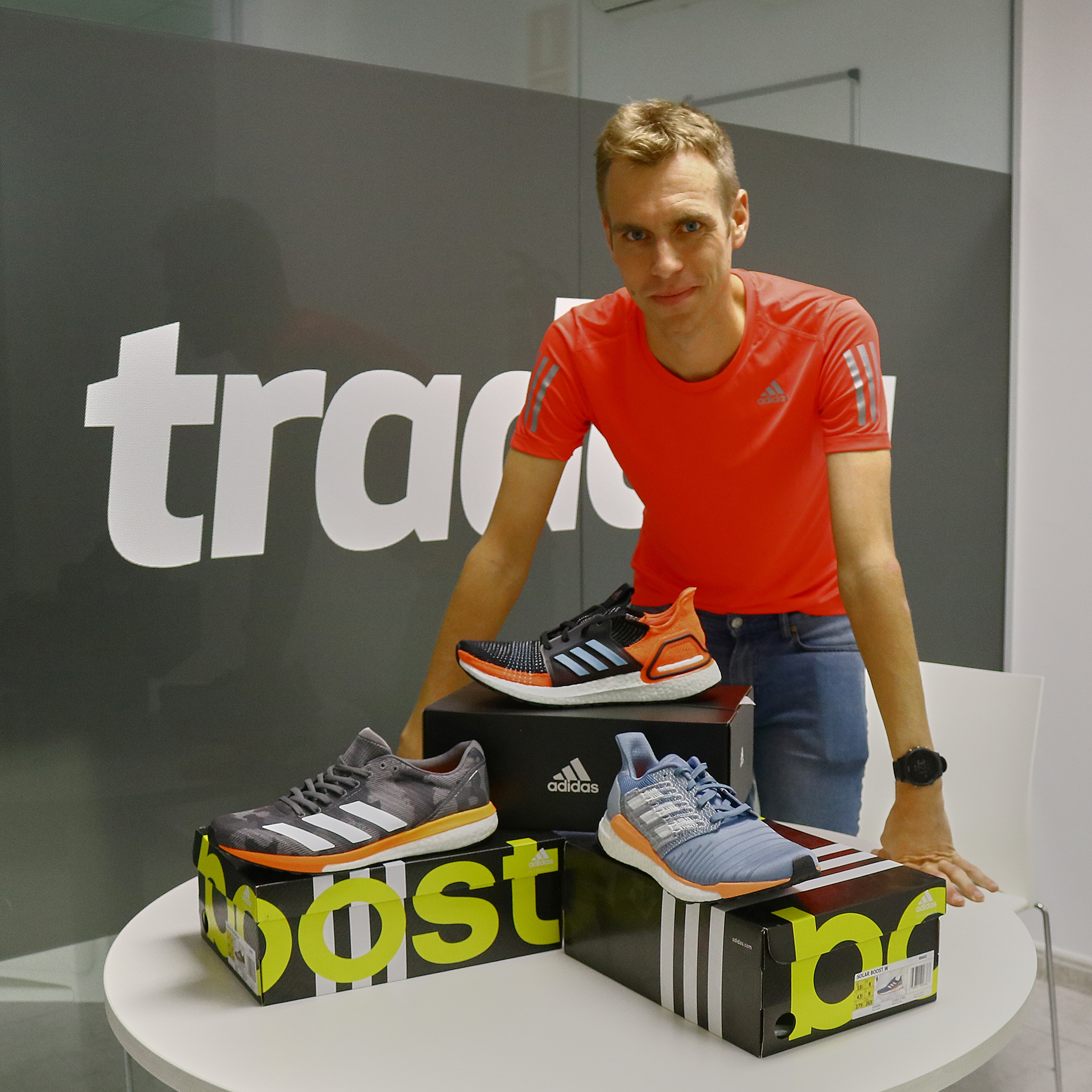 Having "tested" the four pairs of shoes, I remain convinced of the reliability of the brand in any of its models. Each for a different service, but all equally extraordinarily valid. I would also highlight the quality of the sole of all the models (manufactured by Continental), the comfort and fit (seamless fabric, like a glove) and the stability provided by the "Boost".


With these four models, we would practically cover all possible "tarmac runner" profiles with the exception of the most pure sprinters, for which I would direct you without hesitation to the Adizero Adios, a model which I have not yet had the opportunity to test but I hope I will be able to do so in the not-too-distant future. ;)