For those of you who have already used a Polar watch, the menu and navigation of the device has not changed, and for those of you who have not yet tried it, please do so as it has a very simple and intuitive menu and you will be familiar with it in a couple of outings.


Its 1.2" screen offers good visibility and the option to keep the backlight on. I keep it off for energy saving, but a click on the top left button is enough to turn the screen on when you are training in poor visibility. In terms of power saving, apart from the backlight, there are other options available.


Personally I am very happy with the battery life. It offers 30h in training mode with GPS and HR with continuous recording and 7 days in watch mode with continuous HR recording. I find that for medium to long distance athletes battery life is a very important issue, so with the Polar Vantage M2 we shouldn't have to worry about it.


Its predecessor, the Polar Vantage M, had set the bar high for mid-range multisport watches, but that's not a problem for the new version. I'd also highlight the navigation menu in TRAINING mode, one of the first things I customise before I start a new watch! Fancy or not, I think it's basic. With Polar you can customize up to a total of 8 screens, and it's very easy to do through the Polar Flow app. It also allows you to customise it as you like depending on the sport.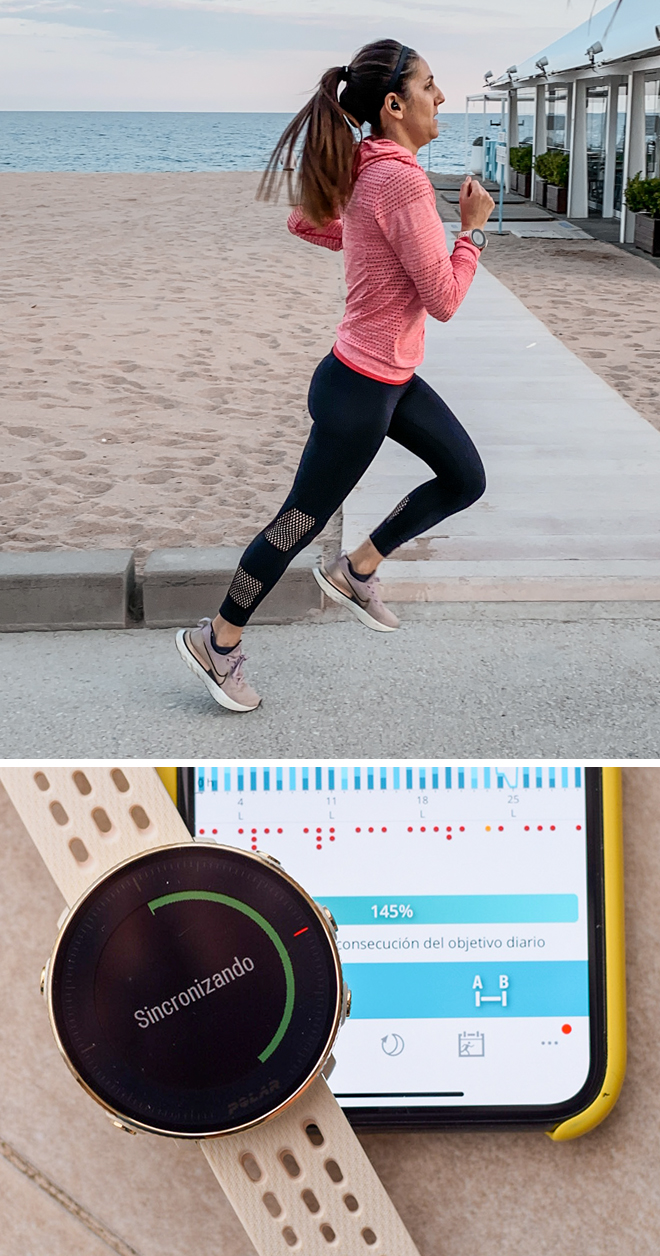 In my case I divide the screens according to my priorities:



1. workout overview (total distance, current pace, average pace and duration).
2. Lab overview (distance of the lab, average pace of the lab and duration of the lab).



These are the most important for me because they are the ones I control the most during the training, the cool thing about customizing it is that you can add the data you need the most. Besides, I have added other data such as altitude, HR control, power, and as a novelty, this new version incorporates a music control function that allows you to browse playlists directly from the watch, cool!



In addition to the above, the new version of the Vantage M, incorporates features previously only found in the higher ranges, such as the Running Program, which allows you to follow a personalised training plan adapted to various distances, the Trainning Load Pro, which will help you understand the state of load/fatigue in which you are and thus optimise your workouts, the FitSpark with its training/exercise guides and the Fuelwise that reminds us when our body needs to hydrate and recharge energy.


As you can see, it is a very complete watch that you will not only use when training, but it will provide you with a lot of information that will help you to optimise your performance and look for your best version. In terms of physical characteristics, I love its sporty and informal aesthetics with a touch of elegance that allows you to use it both on a daily basis and during the hardest training of the week.


It weighs just 45.5g including strap, and on the back is the Polar Precision Prime, their famously accurate LED wrist sensor system that gives you continuous HR tracking without the need for a chest or arm band.



On the downside, I'd say that the standard strap is a size too big for me (although I wear it without any problems). It is worth mentioning that it has a very simple interchangeable strap system and you can get a size S and choose between 4 colours. In short, if you're looking for a multisport watch that meets all your needs without going over budget, the Polar Vantage M2 is definitely one of the best options.


Translated with www.DeepL.com/Translator (free version)