Change holiday habits


During times of low sporting activity, whether due to being on holiday, because the high summer temperatures have forced you to hide away, because it's time to relax, or simply because you have overindulged on the temptations that the summer places before you; as the weeks pass, you notice that your weight is increasing.


It may be that your skin has changed, you can see a little more body fat accumulating, or your muscles are not as defined as they usually are during the rest of the year.


These circumstances will make you feel heavier and less happy with yourself, and with your sporting performance.


Reduce well, perform well


One of the techniques I most use in consultations so that sportspeople are aware of their food intake is to make them note down everything they eat, drink and snack throughout the day for 3–7 days.


If you do this for 5 days, try to make two of the days fall on the weekend, for example: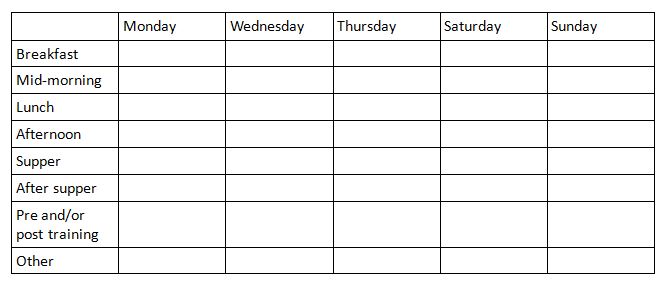 Once you have filled in all the days, being very honest with yourself, check the table for common excesses (you will find these below) and underline the "excesses" you have made in red.


Most common excesses


Eating in restaurants where food is cooked in a lot of oil and where they serve large portions or fast food.
Sauces containing a lot of fat (carbonara sauce, pesto sauce...).
Fatty side orders (chips, ratatouille containing a lot of oil...).
Pastry desserts (sweets, cakes...)
Home-made desserts where there is little control of fatty ingredients (pastries, sponges, cakes...)
Factory-baked pastries
Pre-cooked foods
Snacks
Fried foods (patatas bravas, chips, crisps, calamari a la romana, pasties...)
Breaded/battered foods (san jacobos (ham and cheese), flamenquines (deep fried ham and pork), breaded chicken...)
Processed products (sausages, butifarras, frankfurters, cold meats containing fats...)
Butter or margarine
Popcorn with butter or oil (common at the cinema)
Too much sugar (two sachets in a coffee, adding cocoa or sugar to milk...)
Eating at the wrong times
Ice creams / ice cream desserts
Syrup (the juice in a fruit salad or fruit in syrup contains high quantities of sugar, it is better to leave this and just eat the fruit)
Sugary fizzy drinks
Refreshing sugary drinks
Isotonic drinks, unless you are training
Alcoholic drinks (sangria, cava, wine, vermouth...)
Cocktails
By noting your own excesses in red you will be able to see them and be aware of the changes you need to make. You don't need to make all the changes at once, but improve gradually week by week.


If you follow the food diary, you will see how your food intake improves and all superfluous foods will end up being drastically reduced.


Normally, diets are not adhered to because they are too strict (miracle diets where, for example, you remove all carbohydrates) or because you are having too many "treats" throughout the day or the week.


I encourage you to try this and tell us how you get on with the experience, and remember: there is no need to be strict with your food, some excesses are important in order to maintain a balanced diet over time. But you need to know how to moderate these and when you can allow yourself a treat and when you should not.